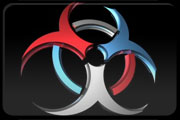 Next monday (13/4) the 2v2 version of the Nationscup kicks in with 20 teams fighting for the pride left in CPM.
Since the teams only need 2 players to get a game going we thought we'd speed things up and make you play 3 games per 2 weeks.
First two weeks schedule can be found here!
I'd like to remind every team that to have at least one player in #cpm.nations to make the scheduling smooth. Before we start I'd like to hand out a round of applauses to the refs helping us with the event and the few admining here at ESR.
Edited by blaze at 07:34 CDT, 15 April 2009 - 13572 Hits