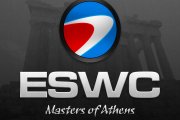 Scheduled: 06:00 CDT, 17 October 2008 to 13:00 CDT, 18 October 2008
Schedule:
Passed

ESWC Masters of Athens
is now over. Results of all matches can be found below. If you missed any matches demos can be
found here
on ESReality and on the
ESWC FTP
.
Thank you to
drago
for supplying the video stream and to all who provided GTV relays and of course the staff at ESWC. Don't forget to check out

MaJunior's
gallery
and
interview with spart1e
just before the Semi-Finals.
Group Stage 1
Group Stage 2
Finals Bracket

ESWC Masters of Athens
::
Quake3 Schedule
::
Demos

Files needed for GTV and Demo play back

#ESWC
::
#ESWC.Q3

ESWC favourite av3k: I lack the self-confidence I need
::
Your guide to loving ESWC Athens

ESWC Athens - tragic, thrilling, unbelievable (videos inside)

derQuaker.com interviews:
SK.Rapha
,
link1n

fox: Low expectations for Athens

Spart1e interviewed

German coverage provided by

fragster.de
and
derQuaker.com

Polish coverage provided by
esports.pl
Edited by Nicky at 05:05 CST, 27 November 2008 - 282349 Hits