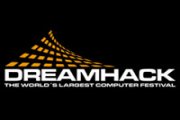 Scheduled: 03:00 CST, 27 November 2008
Schedule:
Passed
Date:
November 27-30, 2008
Event
DreamHack
Location:
Elmia - Jönköping, Sweden
The success continues! Quake Forever returns to DreamHack Winter 2008!
Once again the best players in the worlds most explosive gaming series gathers in

Jönköping to fight for the title of "Quake Forever Champion".
This winter we're planning 3 tournaments to find out who's the quickest, the most tactical and the best team player.

QuakeWorld returns once again to DreamHack, but this time in the long lost form of Team Deathmatch.

Quake III Arena also returns with the new game mode of CPM. More speed, more action!
The upcoming success

Quake Live storms into DreamHack with a 1on1-tournament. Who's the next king of FPS?
As it's not certain if QuakeLive will be released in time for this event, the game may be changed to Quake III Arena (VQ3)
External Links:
DreamHack Winter 2008

#DreamHack.Quake
Edited by xou at 14:02 CST, 9 November 2008 - 158494 Hits