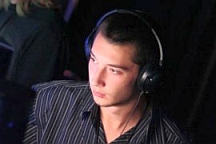 Joe "nineX" Szymkowicz had a chance to sit down with

Shane "rapha" Hendrixson, of SK-Gaming, after his trip to the ESWC Masters Quake 3 competition. Exhausted from the combination of jet-lag and an intense field of competition, Rapha talked about his future in gaming and some topics swirling around the deathmatch community.
Head on over to
GGL-Wire
for the complete interview and keep an eye out for more interviews from the ESWC players.
Edited by Nicky at 11:50 CDT, 1 August 2008 - 188568 Hits