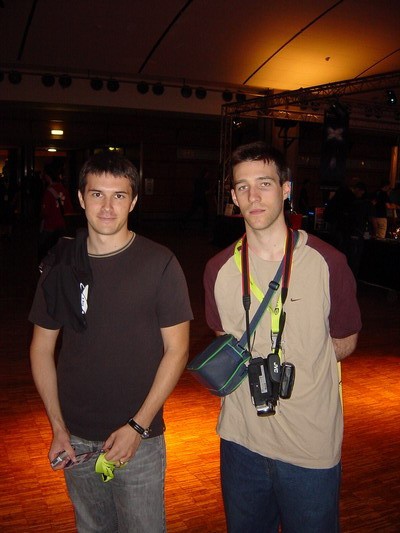 Hi, i am old quaker in South Korea. and fan of St.Germain since 2001(exactly WCG 2001 france demos).
WCG2002 he came to Korea and played but was no good condition and result.
When i was chatting with him i asked about his sensitivity and accel etc..but i didn't get cool answer from him.
ESWC 2005, wow i was exciting his playing. his Dynamic moving and agressive Shooting is much amazing for me.
so i was searching on web his MOUSE and config etc.. but i only knew he was using Razer Copperhead with Aqua2c pad for a moment.
i was test, test everyday, everytime. but i can't find his style.
razer copperhead, mx518, razer diamondback, MS ex3.0, intellimouse etc and many pads.. there was no answer.
2007, Finally i took up courage to send E-mail to him.(stgerma1n@hotmail.com) but that time he was using Death Adder.(OMG..) and he told me "can't remember well when ESWC 2005"
I was discouraged so much. and i sent E-mails several times but no answer anymore.
I was just want to know ESWC 2005 his mouse and his config(sensitivity, accel, bind..)
and i tested too for 2-3years.. i also didn't find answer.(with googling too!!)
2012, in facebook. i met someone. they are thefou, appleseed, Whylf. all famous french quaker!!! i asked to them about St.Germain's info..
Amazingly they gave some information to me.
ESWC 2005 St.Germain was using WMO black mouse with Aqua3 cloth pad.
after that time i was took up courage again to send E-mail(to St.Germain). but he didn't send answer to me since 2007.
Yes, i am testing too about his sensitivity and accel at a time.
someone can think 'You're idot or fool. but i don't care. because St.Germain is always my hero. i am really his fan.
If someone can help me. please send to me his config file or other information. specially ESWC 2005's..
my address is
ckshin74@naver.com
Thank you for reading this long story and I am so sorry about my short Enlgish.
regards
Shin
ps: picture(left is St.Germain right: Whylf in ESWC 2005)
39380 Hits