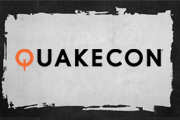 After looking if QuakeCon 2015 had any tournament I saw they had nothing but "Stay tuned for more information".
However there are rules up for: QUAKECON® 2015 QUAKE LIVE® TRI-MASTER TOURNAMENT
The Quake Live Tri-Master Tournament will feature competitions for up to sixteen (16) four-player teams, where each team will be put to the test in a triathlon comprised of Capture the Flag (CTF) , Team Deathmatch (TDM), and Duel to determine which team can stake their claim to being the one true TriMaster Champion. Teams who come out on top will share prizes of $32,000. Following the Triathlon Tournament, the top two individual duelers selected by their team will then face off to claim an additional $8,000 and the title of Grand Master Champion.
Update
: The
Quake Live Tri-Master Tournament
has now been announced on QuakeCon.org.
Link
:
The rules
Edited by xou at 09:31 CST, 26 February 2015 - 132311 Hits