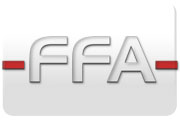 Scheduled: 13:00 CDT, 26 June 2011 to 16:00 CDT, 26 June 2011
Schedule:
Passed
Sunday the 26th of June at 13:00 CDT,
-FFA-
is organizing the 6th open
FFA Tournament
. A tiny change has been made: the maximum amount of players in a game has been adjusted to 11 (in stead of 12). The previous edition was won by

ipodjunk. From all send in demos this
highlight video
has been compiled.
This winner gets to select all 7 maps for the next tournament.

ipodjunk
compiled the following list for this week: Grim Dungeons, Almost Lost, Trinity, Furious Heights, Quarantine, Hidden Fortress, Asylum.
Links
:
Current Sign-ups
,
Rules
,
Brackets
,
VODs
-

#ffa-clan
Edited by visje at 15:13 CDT, 25 June 2011 - 7409 Hits