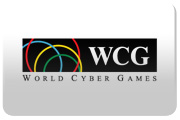 WCG has just announced three titles to be included into the WCG10 lineup.
These include,

Starcraft Brood War,

Fifa 2010 and

Asphalt 5
There were worries that The World Cyber Games would leave out Starcraft BW due to Starcraft 2 being released (albeit in private beta) but this morning, they announced that it would be included in this years lineup.
This year's WCG will be held in the

United States (in Los Angeles) and titles will include Warcraft 3, Counterstrike 1.6, TrackMania Nations Forever, Carom 3D, Guitar Hero 5, Forza Motorsport 3, Tekken 6 and now Starcraft Brood War, Fifa 2010 and Asphalt 5.
Last year's gold medal winner was

Jae-Dong Lee (JaeDong) with silver being picked up by

Song Byung Goo (Stork)
Edited by Zer1toN at 09:57 CDT, 14 April 2010 - 7017 Hits