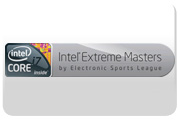 I'm kind of bored and can't sleep so I decided to go through all the player accounts for the competitors @ the IEM finals and see what kind of practice time they're putting in. I'll update this later tonight to make sure I get all the stats right before the start of the tournament tomorrow.
Practice time and other statistics from Feb. 24 2010 - Mar. 02 2010 (Last 7 days):
Need the account name the following players are practicing under:
Magnus "mouz.fox" Olsson
If you guys can give me other accounts/aliases any of these players are practicing under I can merge their stats together. Let me know.
UPDATE:
All players except fox have been updated. We'll see if practice pays off tomorrow.
UPDATE #2:
Here is the requested money earned per hours practiced:
Rapha: 21 Hours =
$476.19
per hour
Cooller: 33 Hours =
$121.21
per hour
Av3k: 23 Hours =
$69.56
per hour
Cypher: 16 Hours =
$50.00
per hour
Fox: 0 Hours =
$600.00
per hour :D
Dahang: 29.5 Hours =
$20.33
per hour
Stermy: 25 Hours =
$16.00
per hour
Strenx: 28 Hours =
$14.28
per hour
Jibo: 10.5 Hours =
$38.09
per hour
Dkt:: 21 Hours =
$19.04
per hour
Griffin: 30 Hours =
$13.33
per hour
Chance: 31 Hours =
$12.90
per hour
Keep in mind that this is based only on the practice time recorded a week before the event..
Last Updated Tuesday March 2nd 8:43PM EST.
Mon
Tue
Wed
Thu
Fri
Sat
Sun
1
2
3
4
5
6
7
8
9
10
11
12
13
14
15
16
17
18
19
20
21
22
23
24
25
26
27
28
29
30
31
Edited by pl4gue at 07:57 CST, 8 March 2010 - 18532 Hits