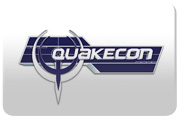 It is that time of year again. Time to register for North America's largest LAN party, QuakeCon 2009! Ultra mega BYOC'ing, awesome tournaments featuring Id Software related games including the highly anticipated QuakeLive, and meeting up with old friends and making new ones are just a few of the numerous activities awaiitng you.
Although specific information has not been provided so far, with QuakeLive now in open beta, it is a safe bet it will the headliner of at least a few cash tournaments taking place during the event.
Now almost thirteen years old, QuakeCon is one of the oldest pro gaming events on the planet. And with free admission it should be on your list of must-attend destinations this summer.
Location: Hilton Anatole in Dallas, TX USA
Dates: August 13-16, 2009
QuakeCon Registration Page:
http://registration.quakecon.org
Edited by xou at 12:24 CDT, 10 March 2009 - 13887 Hits