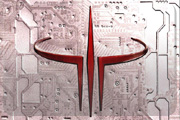 We're proud to announce our first 5v5 CQ3 CTF cup. We decided to go with CQ3 because VQ3 tends to become quite based on aim. The weapons in CQ3 are slightly tweaked and the movements are very similar excepted for the ramp jumps from CPM. The map pool will consist of q3wcp1, q3wcp9, q3wcp22, q3wcp15, q3w3, q3ctf2 and q3wcp5. All games will be played on EU servers.
One player in each team should be assigned as leader, whose task is quite simple: Schedule one match a week, take screenshots afterwards and send them to one of the operators in #vq3pickup / #vq3p.cups. Those screens will later be uploaded on the website.
Update
: 2 out of 8 slots are still empty for the cup. We would love to get two more teams in order to make a clean 8-teams bracket. Feel free to apply by contacting an admin in
#vq3p.cups
!
Website:
vq3pickup.matrix.is
Edited by xou at 13:56 CST, 27 February 2009 - 21543 Hits