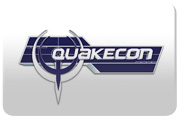 View Coverage:
QCON'07
Organiser:
QuakeCon
Website:
http://www.quakecon.org
Location:
Hilton Anatole Hotel, Dallas
Duration:
2 Aug 2007 to 5 Aug 2007
Scheduled: 18:00 CDT, 1 August 2007 to 18:00 CDT, 4 August 2007
Schedule:
Passed
We're locked and loaded for August 2-5, 2007 at the Hilton Anatole Hotel in Dallas, TX, and we've got more gaming, events, exhibits and fun planned than ever before.
This year's BYOC Area will consume the entire Trinity Hall 1, with over 70,000 square feet of floor space and 2,700 player spots – over 1,000 more seats than 2006. We've also increased the exhibit area 5X to 25,000 square feet, enough to accommodate up to 50 exhibitors demonstrating their latest games and computer hardware. Of course, it wouldn't be QuakeCon without our high-stakes pro gaming tournaments; and attendees can also look forward to the return and expansion of our enormously popular and one-of-a-kind "Quick Draw" tournaments, which pit randomly selected attendees against each other in high-pressure battles for serious cash. And in keeping with QuakeCon tradition, every day will be packed full of contests, conferences, announcements, and entertainment.
QuakeCon Tournaments Announced
BYOC Attendee List
QUAKE Quad-Damage 1v1 Tournament Sign up List
QUAKE Wars 6v6 Championship Sign up List
Edited by xou at 09:20 CST, 10 November 2008 - 52807 Hits