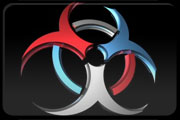 After an absence of more than a year we've decided to bring
SADNA
back to life in the form of a
CPMA CPM 1v1
tournament. This will be happening on
Saturday the 23rd of September 2006 (this Saturday)
and will be a one day tournament.
Previous tournaments were OSP VQ3 1v1 and featured players such as czm, chance, cl0ck and
bondjr
. However everyone is welcome and signups are first come first served.
The map-list will be the one currently being used in the
CPM Masterscup XL
(cpm1a, cpm3a, cpm15, cpm22, cpm23), with the addition of cpm28.
Signups will be opened at
09:30 CDT
. On saturday. And will continue 'til we reach 32 players.
As stated previously, this is a one day tournament, you must be in the channel to sign up on the day, anyone not in the channel will be removed.
Good luck and have fun :).
Website
Rules
IRC:
#SADNA-EU
on Quakenet
Edited by MaJunior at 10:16 CDT, 23 September 2006 - 23010 Hits