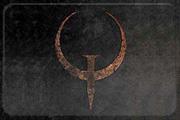 Yesterday the clock reached 20.00 CET and it was time for my Duelmania game versus

Toi. Fortunately for me everything went well. It was
a quite comfortable 2-0 win
on Aerowalk (28-2) and DM6 (30-7).

Toi had some ping disadvantage though, but proved to be a real nice sportsman. My next opponent in winners bracket is

Y whom i've never heard of before. I got the higher seed but i wouldn't be surprised if the crew has got the wrong idea about me. ;)
Besides Duelmania and 1on1 i also play 4on4 in the clan Veterans that consists of old members from the old clan Hellfire. As we got relegated last season due to some inactivity and disorganization in the league, we now strive to win
division 3
and there has been few problems so far. Yesterday
we played

Clan Metally Troopers
and even without rising star

Mille we managed to win DM2 at first. That was one really tight map where CMT early took the lead by about 50 frags or so, then i managed to get hold of Quad and the other guys secured tele/water and we were back in the game. Made a real nice quadrun and a sequence at low-rl that i'm very satisfied with. :) E1M2 was our choice of map and even though it was a bit uncertain in the beginning, we locked the map and never looked back when it was roughly 5 minutes left. Map ended with like a 100 frags advantage for us.
On sunday 21.00 CET we are going to face

Brutality
which will be a hard nut to crack. Now i'm off to school, don't forget to check out
the new QW forum
!
Mon
Tue
Wed
Thu
Fri
Sat
Sun
1
2
3
4
5
6
7
8
9
10
11
12
13
14
15
16
17
18
19
20
21
22
23
24
25
26
27
28
29
30
31
Edited by Slasher at 02:02 GMT, 20th Feb 2006 - 3135 Hits