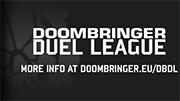 We are very proud to announce the inaugural
DOOMBRINGER Duel League
. With DOOMBRINGER's largest ever prize pool and the grandest production yet, the DBDL marks a significant step-up in competitive DOOMBRINGER. For months, the finest duellers from around the globe will battle for their shot at the crown.
Sign-ups, now open, will dictate the league's length and format.
They will close on the 25th of December 2021
, when the final details will be revealed. For now, here's what we do know!
- 8 to 16 week main season round-robin starting January the 3rd 2022
- Gauntlet style playoffs
- NA, SA and EU players welcome
- Weekly show on twitch.tv/TimConLAN - Fridays 8PM CET
So join us, won't you, as the history books are written, and stake your claim!
Admin:

GMT#4367
Stream:

TimConLAN
Links:
Sign-Up
,
Discord
,
Bracket
,
Donate
,
DOOMBRINGER on Steam
.
Edited by CrazyAl at 07:59 CST, 2 December 2021 - 6638 Hits