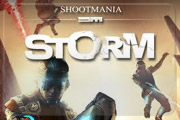 Im finally giving this game a try and the first thing im faced with is with some sort of anti cheat that pops up and says "Updating" or something but it doesn't update, so im stuck. I disabled tinywall and enabled diabotical.exe and diabotical-launcher.exe in the windows folder protection exception thing in windows 10 and same shit
Why wouldn't this fucking work already?
And eventually it prompted a window with "do you want to play offline" and I said yes just to test with it bots. Well, there are no bots, and none of the training maps work, I press play and it wouldn't do nothing.
So wtf is going on with this?
5340 Hits