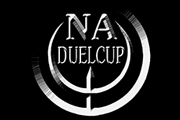 Scheduled: 17:30 CST, 10 January 2015 to 19:00 CST, 10 January 2015
Schedule:
Passed
The first
N.A. Duel Cup
of 2015 is here! The first four events were well received, and community support has been awesome. The internet has come a long way but due to ping restrictions most players from North America still cannot compete in the main QuakeLive events such as the 125 FPS League. The N.A. DuelCup fills a small yet vital role in providing players from this region a stage to compete on. If you missed any of the events or would like to relive them the VODs are available.
The N.A. DuelCup welcomes
donations
towards current or future prize pools. Please specify if you would like to remain anonymous. Total donations in 2014: $216.00 USD. Thank you everyone!

Results:
Youtube VOD

Stream:
Official DuelCup (flair)

IRC:
#duelcup
Edited by flair at 06:37 CDT, 23 June 2015 - 22351 Hits