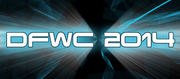 Scheduled: 14:00 CST, 21 December 2014 to 16:00 CST, 21 December 2014
Schedule:
Passed
DFWC
is the most important event in the Quake3 DeFRaG world. Players from around the world will meet again to find out who is really the best. They will have to test their strafing and weapon skills on 8 maps of different difficulty level during 9 weeks. All these maps are new, created specifically for DFWC by the best mappers of our community.
Everyone can challenge himself in one of the two physics – VQ3 (Vanilla Quake 3 – similar to the current competitive Quake Live) or CPM (Challenge ProMode – similar to Quake Live's PQL).
Links:
q3df.org
,
dfwc.q3df.org
,
defrag.ru
,
#defrag
Stream:
ZLive
Edited by zoot at 13:40 CST, 21 December 2014 - 31910 Hits