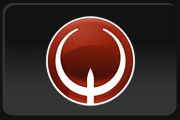 CyAC
is pleased to announce the 8th installment of Quake Live Sunday Duel Cup for newbies from

India,

Singapore,

UAE,

Japan ,

Korea and

Australia! Strictly ONLY NEWBIES ALLOWED!
This cup would be held on Sunday 18th November, 2012 @ 04:00 CDT.
Use Mibbit Webchat
CyAC Channel to get in touch with your opponent! Go ahead & sign up!
Finals @ 10:00 CST, 18 November 2012 -- LIVE BROADCAST @
cyac.jp/tv
Cup Format: 1v1 Double Elimination
Servers to be used: Singapore Official Quake Live Servers
Premium membership is recommended to be able to play. If you are a Standard Quake Live player, please request & wait for tournament admins to create a match & invite you.
Links:
Summary and Participants
,
Sign Up
,
Rules
1723 Hits