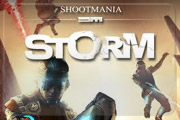 A legendary Quake trio will be representing French organization Millenium. Kevin "Strenx" Baeza has been playing ShootMania for some time now and has been trying to push the game forward, to help it become one of the main titles in esports. He has now teamed up with two other legendary Quake names to create an all-star team.
The Frenchman will be joined by Alexey "Cypher" Yanushevsky and Maciej "Av3k" Krzykowski. The two Eastern European players represented Serious Gaming and gaming peripheral manufacturer Razer for some time in Quake Live, but will now represent Millenium in ShootMania.
They won't be attending the SOPA Lan together yet, as Cypher and Av3k will both be at DreamHack Summer for the Quake Live competition. Strenx will be attending but with a mix-team, together with Saint-Cyprien and cr1pton. However, the team will be going to Cybsum, as they have been one of four teams to be invited so far.
To round it up, these are the three players who will represent Millenium in ShootMania:

Kevin "Strenx" Baeza

Alexey "Cypher" Yanushevsky

Maciej "Av3k" Krzykowski
Source: ShootmaniaEsports.com
Edited by roychez at 14:11 CDT, 6 June 2012 - 8129 Hits