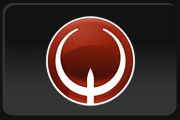 As some of you know I recently quit organized gaming due to hating the pressure of having to play when i MUST; not when i want to.
But this has come to a bad turn. I have huge competitive spirit within me that needs to be fed, and it turns out quake did alot for my well being.
I've made my living off poker for a long time now, without being wealthy I've been living quite well. But after turning down quake and not touching it at all poker has become quite an obsession that causes me to both start losing and playing far too much for my own healths sake.
I guess I'm writing this because I need to vent somewhere and it's semi quake related, but dibbe if you're reading this, I'll probably talk to you about coming back to nEu within the next few days.
All the talk about "you'll never really quit" really makes sense in my case.
15986 Hits