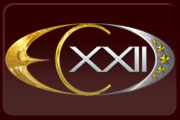 We are in the fifth and final match week in the group stage. First 3 teams from both groups have their spot already secured in the playoffs.
In the group A though

xentorium is closest to securing spot for themselves if they win their final match vs

e-violence. If not

mowers might have a chance IF they win their both matches, which is not likely to happen but chance is still there.
15:00 CDT, 2 November 2010 4K 1-0 mow - mow forfeited
16:00 CDT, 2 November 2010 4K 2-0 alpha - (Match report & demos, HS VOD Map 1, HS VOD Map 2, lvl^ tv VOD)
15:00 CDT, 3 November 2010 evo 0-2 xt - (Match report & demos)
15:30 CDT, 3 November 2010 METSU 1-0 FLiNE - FLiNE forfeited
13:00 CST, 7 November 2010 dr - mow - mow dropped
15:00 CST, 7 November 2010 faces 2-0 aCtion - (Match report & demos)
Official streams:
lvl^
,
TV.HS
Links:
EC XXII
,
Rankings
,
CBooky
,

#clanbase.ql
,

cbqlcrew
Edited by PerpetualWar at 01:24 CST, 8 November 2010 - 13750 Hits