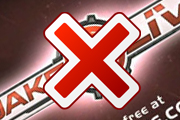 For the past two weeks the Oceanic servers have been reduced from 4 locational hosts, to the now barely playable 1.
This
majorly affected
our recent
LAN competition
on the weekend and
will mean no
Quakecon tournament
for our Oceanic players if they are not put back up in time.
We have contacted our local server providers some of which said they were upgrading their servers (a week and a bit ago), but have contacted id Software a few times now to tell them the servers are ready to go back up. id Software's SyncError has attempted to be contacted via IRC on a few occasions and we do understand he is a very busy person and obviously under a lot of scrutiny due to the mass amounts of people trying to contact him and the lack of responses he's been able to give.
In all respect I would like to give the guy a break but this is too important for an entire continent to run a competition to send a player to their own American LAN tournament is becoming somewhat of a joke.
Important or not all Oceania and 4Seasons Gaming have done is promote the game as best we can, and as much as we may sound like whiners some of you hopefully agree we do not deserve for this kind of problems to be ignored.
Original Quakelive forum post
Edited by mickzerofive at 08:55 CDT, 8 June 2010 - 45341 Hits