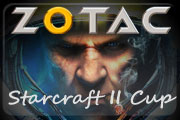 Scheduled: 07:15 CDT, 6 June 2010 to 13:00 CDT, 6 June 2010
Schedule:
Passed
Probably for the last time in the StarCraft II Beta

GameSports.de
&

ZOTAC
bring you the weekly

ZOTAC StarCraft II Beta Cup
, starting on Sunday 07:15 CDT, 6 June 2010, checkins will as per usual open at 06:00 CDT. There's
100 € price money
up for grabs and we'll be running with 1024 signups and 512. Since the beta is going to end on June 7th there won't be any more cups until the final game is being released on July 27th.
SemiFinals
:


RoX.KIS.Brat_OK
2:0


HuK


HayprO 1:2


Drafter
Final
:


RoX.KIS.Brat_OK
3:0


Drafter
Replays
Streams
:

GameSports
,

Millenium
,

sc2tv.ru
Links
:
Info
,
Playerlist
,
Replaypacks of all Zotac SC2 cups
,

#zotac.sc2
Edited by vash_ at 15:11 CDT, 7 June 2010 - 6459 Hits