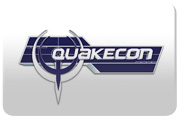 As stated by SyncError at the Quake Live Forums, the long awaited Videos on Demand from Quakecon 2009 are now available at QuadV.
The site requires registration but it's free.
Videos included are from the Masters Championship Duel and CTF matches, plus interviews with rapha and John Carmack.
SyncError's post at quake live forums:
http://www.quakelive.com/forum/showthread.php?t=34827
Drop by and register here to view the games:
http://www.quadv.com/ondemand/#/event/1211-quakecon-09
Enjoy.
9087 Hits