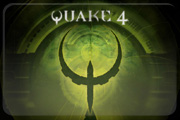 Quake.cz
is going to hold a Duel Cup for

Quake4, with

Hawr1x being the organizing Head behind it. The cup is not restricted to european players so feel free to sign up, though you might need to play some matches on european servers.
It will take place on
Sunday, 13th September at 17:00 CEST
while the Checkins being at 16:30 CEST. To Checkin join
#q4.cz at Quakenet.
To sign up, leave a comment using following format:
!ADD - Pavel "Hawr1x" Kymla, CZ, Czech Quake
Related Links
:
Quake.cz
Edited by mnemjc at 13:10 CDT, 9 September 2009 - 11351 Hits