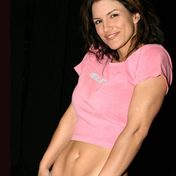 With today's release of Street Fighter IV on Xbox 360 and PlayStation 3, I thought it would be fun to take a stab at SFIV characters and their real life counterparts in the MMA scene.
Before the whining commences, I brought girls, too.
No female MMA fighter list would be complete without mentioning Gina Carano, who has carved out a niche for herself as a premiere female MMA fighter within two years of her debut on the scene.

Her fighting style showcases quite a bit of striking ability due to her background in Muay Thai, not wholly unlike the enigmatic Crimson Viper. While Carano does have submission skills, she's most at home pounding the crap out of people.

Read the full story at GGL Wire.
Edited by xou at 03:02 CST, 17 February 2009 - 31164 Hits