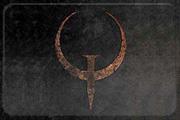 Scheduled: 14:00 CST, 23 November 2008 to 15:00 CST, 23 November 2008
Schedule:
Passed
To stir up the various Quake communities,
GGL's
Senior Gaming Supervisor and
CHTV
owner

Don King
will be hosting several exhibition matches for each of the games with quite a few well known players.
The first of these challenge matches will pit the Dutchman

"
reppie
" against Finnish player

"Milton" in an exciting match up for Quakeworld on Sunday, November 23rd @ 14:00 CST. The maps for this match will be in the following order: DM4, DM6, ZTNDM3, Aerowalk, and DM2.
QuakeTV will be available, with the info TBD.

!phil
will also be casting this match.
Stay tuned for more information regarding the other Quake games, who the players participating are, and when those matches will be!
For more info just head over to the IRC channel,
#Challenges
on Quakenet.
Demos
- DetonatoR
(edited post date to bring news item back to front page)
Edited by Nicky at 01:29 CST, 27 November 2008 - 26361 Hits