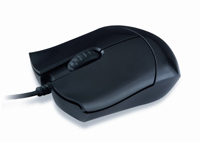 GGL Wire
has reviewed the new Razer Salmosa, a 3G infrared mouse capable of achieving 1800 DPI @ 1000Hz.
While Razer's mice receieved a mixed reception over the years, the symmetrical, small and light Salmosa may be just the thing for the hardcore gaming crowd.
Here's an excerpt:
Perhaps the most important part of the underside is that the infrared sensor is almost perfectly centered. It's not off to an angle (which is what typically happens with small mice that have customizable weights), or skewed to the front or back. This leads to perfect handling in FPS games.
Read the full review over at GGL Wire.
Edited by mahmoodsdotjpg at 18:29 CDT, 7 October 2008 - 51968 Hits