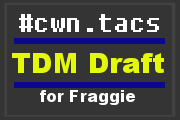 Scheduled: 12:00 CST, 12 February 2014 to 14:00 CST, 12 February 2014
Schedule:
Passed
In memory of

Fraggie
#cwn.tacs and #tdmpickup will be holding a small 64-player fun TDM cup this Wednesday (12 February).
Due to technical issues the event will be re-scheduled and we will post specific information as soon as possible. Our apologies and gratitude goes towards everyone who showed up.
The usual requirement of minimum 10 TDM pickups does
not
apply, however, you must have played at least one pickup within the last month!
Stream:

LevelUpTV
Edited by Badb0y at 14:01 CST, 12 February 2014 - 21486 Hits