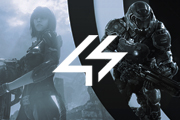 Interview with
Myztro's

RAISY
How do you feel about the changes to the duel Tournament specifically giving only $25,000 to 1st
I prefer the way they handled last year's QuakeCon prizes. You can become 2nd and still win nothing. Very unsatisfying.

Interview with Quaker Orb's

Effortless
Since the structure changed for the 2018 year of Quake events whereby teams were no longer flown over by the developers. It made it hard for a lot of teams to make international trips like they had hoped for. Can you tell me what was the feeling when you found out this would be the case for you to financially fund your team to travel to France and what was it like when the community outpour of love and support for you came to fruition?
We were kind of thrown off by this news, considering this was announced one month before Dreamhack Tours. yenOm and I had worked very hard leading up to the event, even before any tournaments were announced, and we felt a little blindsided from what we had come to expect for Quake tournaments. We were debating even attempting to go to DH Tours as we didn't think we could fund an international trip with one months notice.

Interview with
Corvidae's

Steej
Now that you have played with Dandaking for 6 months as a 2v2 team, what do you feel is your biggest strength as a duo?
We are always looking for angles to output damage no matter the situation; we have high pressure because of this. Despite improving our playstyle to reduce the damage we receive, it has not changed that much and feels like a nice balance.
Links:
RAISY Interview
,
Effortless Interview
,
Steej Interview
,
Points betting
Edited by mickzerofive at 03:50 CDT, 7 August 2018 - 13332 Hits