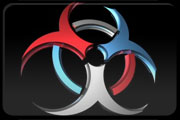 After a lengthy hiatus in terms of development CPMA and CNQ3 have both received major updates, which are now live. CPMA (the mod) moves up to version 1.50, and CNQ3 (the engine), moves up to version 1.49. These updates have been made with the goal of improving the experience for both veterans and beginners alike without compromising what the core values of the game. With that said, the expectations for these updates were to: fix existing bugs, improve existing features, and introduce new
quality-of-life
features.
This update also marks a significant shift in the staff as

myT takes over the lead programmer role from

qrealka /

arQon, assisted by

Terifire,

df providing art,

ix on design, and

Fjoggs in operations/support. Before we get started, I think it's important to iterate that there are
no game play changes
.
Even though the team has been thorough in their attempt to identify bugs, we do not expect that this release is bug-free, and as such request players to submit any bugs they encounter via commenting in this thread. Please identify your hardware, and the bug, including how it can be recreated.
You can
download
CPMA 1.50
and
CNQ3 1.49
from
www.playmorepromode.com
.
To play CPMA you will need the mod files and ideally CNQ3. CNQ3 is a free improved executable (engine) for running Quake III Arena on Windows and Linux. It is the official engine for CPMA. It is not necessary, but highly recommended when available for your platform.
Little (but important) changes...
There are a couple of smaller changes which should be noted off the bat as slightly alter some older conventions. These are all fairly innocuous changes in both the engine and the mod but it is important to highlight them as they are potentially impactful shifts. Please note that I have arranged them below for both engine and mod:
Bigger (significant) changes
Below are some of the bigger additions and updates in the current patch. These updates -- which sadly do
not
include loot boxes, cosmetics or pay-to-win features, constitute one of the heftier updates in Promode history in terms of features and fixes. These updates will significantly improve the experience of getting into the game and provide a veterans with a slew of quality-of-life improvements. As always, all of these settings can be turned-off if players do not wish to use them.
Bugs & Fixes
As mentioned in the introduction, the aim of this update has been to improve the playing experience for veterans and beginners alike. A large portion of this means discovering, reproducing, and finally fixing bugs, or taking existing processes and improving them. Thanks myT, Terifire and the various testers, lots of bugs have been finally removed from the game including the infamous spec bug, global events missing (e.g. flag pick-ups and frag messages being missed) bug, etc... From the length of the change log I think it's clear a lot of small to large sized bugs have squashed and this means a better player experience.
Bug Reports
: Please report any bugs you find in CPMA 1.50 in the comments section of this post.
Website & Guides for guides (for guides)
A major part of this CPMA update has also been to update the existing CPMA homepage and accompanying documentation. For a long time, finding solutions to simple problems went wading through various, poorly formatted, and out of date, .txt files. Now, you can head over to
www.playmorepromode.com
and have immediate access to current documentation for pretty much every variable, sorted in orderly fashion. We have big(ger) things planned for the website set in 2018 but for now this should serve as a good knowledge base.
Links
CPMA Official Website
,
CPMA Discord Server
.
Edited by xerosawyer at 16:44 CST, 13 January 2018 - 44543 Hits