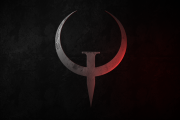 Quake Champions
Executive Director Tim Willits speaks to
IGN
on
id Software
's intent to please the longtime Quake community, the current usage of team-wide powerups such as Quad, and looking forward towards custom servers.
It is so important that we capture that core Quake community. If we blow it with the pro players, then we're not going to get any casual players. Today, especially with spectating – people watching other people play games – watching the world's best Quake players play a game of Quake is really enjoyable because they can do things that are just amazing.

We do feel that if we can capture those really competitive hardcore streamers, pro players, they will build a community around themselves. That's huge for us. We do believe that can pull people in that may have been playing other first-person shooters.

The best players always still win. We have John "ZeRo4" Hill, a competitive Quake player that's been on the scene for years. He is an employee here. He still wins. The focus of the game is on skill. You may use the active abilities for an advantage, or you may use them to help you get out of a situation that you feel is a problem for you, but the best players still win, and that's important.

We have our custom game mode that allows custom games to be tweaked up a little bit But we do believe that people will play the game as it is. You'll be able to adjust some things, but we really discourage that. We do believe that once people play it, they'll be like, 'Oh, this is cool.' Because you know what? If you want to play Quake where everyone is exactly the same and you're all the same character, just play Quake Live. It's still available. We'll have our custom game modes, but we don't think people will actually play like that.

There are a lot of folks that say they want everyone to get Quad [Damage], everyone on your team gets Quad. Then there are some people that are, like, 'No, we're okay with the slight buff that we have now.' And there are some people that are like, 'No, it's got to be a single person.' That is definitely something that we are going to be looking at when we move into closed beta. It could possibly change.
Source:
IGN Interview
Edited by Slasher at 15:12 CDT, 7 April 2017 - 123303 Hits