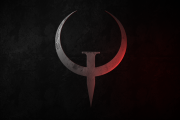 While
Quake Champions
will have a strong emphasis on team modes, the historical Quake staple of 1v1 Duel has previously been confirmed to be in QC. While details on the inner workings of the game mode have not yet been made public and no new information was provided at PAX East, Quake Champions Executive Director Tim Willits has assured that Duel will be a focus for esports.
id Software
's Lead Quake Designer Adam '
SyncError
' Pyle and new Esports Director

John '
ZeRo4
' Hill recently ventured to IEM Katowice to have CSGO pros try out the game (non-duel), and professional Quake players will be coming to id Software's offices as soon as today to test Duel further than the play tests at QuakeCon 2016.
"There is a hole with one-versus-one, it's missing from first-person eSports," Quake Champions Executive Director Tim Willits told PCGamesN at PAX East. "The title fights are great for Quake so our Duel mode is going to be uniquely Quake, but will still incorporate the champions. We have Duels [working in-game] but we need to get more pro players to play it, just to make sure they like it. We have some coming up to id next week.

"We've been listening to [the pros] too, at Quakecon last year the pro players came in, they played our team mode and they were like 'yeah you gotta change this', we said okay, we started changing it."
Edited by Badb0y at 12:58 CDT, 15 March 2017 - 44467 Hits