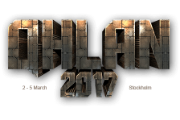 Last weekend we saw one of the biggest QuakeWorld events in modern times as
QHLAN2017
took place in Haninge, Stockholm. With an extensive list of known names among the signups it was bound to be a great event, and with the results at hand i think noone can be disappointed by the great show nor the quality of the gaming on display.
The tournaments arranged at the event were QuakeWorld 1on1, 2on2 and 4on4 deathmatch. There was also a special prize awarded -
the Warzon Trophy
- to the most entertaining player at the event, and the winner of this honourable feat was the Ronaldinho of QuakeWorld known as

GT
who made the audience simply laugh out loud several times during the event with his flamboyant and fast paced play style.
Tournament results
VOD: Prize ceremony (before 1on1 bronze/final game)
VOD: From whole event at TastyspleenTV on Twitch
Edited by Badb0y at 08:54 CST, 8 March 2017 - 7613 Hits