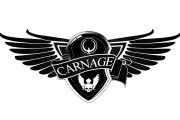 After a relatively successful
first season
, we decided to continue the league. Now, the league will be held not only on Moscow servers that enables all the European teams, which wanted, but could not take part because of the large Moscow server pings, to participate in the competition.
All the rules and game schedule will be published later, but at this time we open the registration instructions. To register, you should write to the irc-channel #carnage !! (yes, with two !!), the team name and lineup to me (nixon). Each team can register up to 9 members. And, of course, a player registered for a certain team cannot take part in the game for another team.
Also, we want to make 2 divisions.
Start:
20th September.
Deadline:
30th November.
Links:

carnage!!
Coverage
,
Announcement
Edited by -nixon- at 13:30 CDT, 21 September 2015 - 26183 Hits