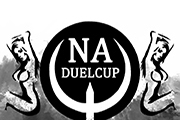 Scheduled: 23:00 BST, 19 April 2015 to 05:00 BST, 20 April 2015
Schedule:
Passed
There have been a lot of familiar faces popping up in North America. With all the QuakeCon hype filling the air it was bound happen! However we've still got a few months before the big LAN so there is still time to squeeze in a North American Duel Cup or two. On Sunday April 19th at 22:00 GMT it doesn't matter if you're a familiar face, an unknown, or an infamous rival or the former. You are all invited to the eighth installment of the NA DuelCup.
In the interest of time there will be a slight change to our format. The lower bracket will continue to be Best-of-One matches. The lower bracket finals (last game of the lower bracket) will be a Best-of-Three. The big change comes in the upper bracket. The first two rounds of the event will be Best-of-One. It is not until the
third round
that Best-of-Three is to be used. Good Luck and thank you for Quaking.
Stream:
FlairTV
Links:
VOD
,
#duelcup
,
DuelCup.com
Edited by flair at 12:37 BST, 23 June 2015 - 24478 Hits