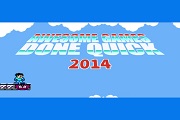 Scheduled: 11:00 CST, 5 January 2014 to 21:00 CST, 11 January 2014
Schedule:
Passed
I thought I should tell you guys about speedrunning, it's a community that's getting bigger and bigger for every year. Speedrunning is to complete a game as fast as possible without cheating, you may use glitches inside the game but no cheat codes. There's over 900 speedruns over at
Speed Demos Archive
and probably more that hasn't been submitted yet. The guys over at
SDA
got two events every year where they gather people from all over the world for about 6-7 days and play video games, these are called
AGDQ
,
SGDQ
, Awesome Games Done Quick and Summer Games Done Quick. Last year at AGDQ 2013 they managed to raise
$448,423.27
for the
Prevent Cancer Foundation
and Summer Games Done Quick managed to raise
$257,181.07
for
Doctors Without Borders
and I thought that if I wrote about this there's a chance they could make even more money at the next events for a great cause. The point of all this is that I want more people to join the speedrunning community. I've done a couple of interviews with a group of really active speedrunners and I hope you'll like it.
The marathon is now over and I'm happy to announce that they managed to raise over $1 million, $1006990 to be exact. I'm proud to be a part of this community and I'm proud of all of you who supported this!
I hope you got inspired enough to watch some of these awesome runs and hopefully you'll be speedrunning very soon! I will post some helpful links below to help you find everything you need to know about speedrunning.
Links:
Speed Demos Archive
,
Speedrunslive
,
w00ty
,
SDA Charity Marathons
Edited by Kruzz at 07:58 CST, 12 January 2014 - 27019 Hits