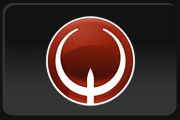 Hello everybody, I think most of you if not all know that I am a newser for a french website called Esportsfrance, doing interviews, following competitions (not all but the most important ones), etc.
Well, guess what, Esportsfrance is supposed to be shut down, something to do with the sponsor, Oxent I think, details don't matter.
Still, no worries, the staff is going to make a brand new website by ourselves which I cannot reveal at the moment but very soon.
Anyway, what I'd like to do is to have a maximum of information about important players of Quake Live to create players profile pages, really useful to follow players results,etc. By "important" I mean people involved in competitions, duel, TDM, ctf.
These new page will play a crucial role in the new website apparently.
To this day, I already gathered infos and pics from most of the stars, Cypher, rapha, Av3k, DaHanG, strenx, k1llsen, Latrommi, Cooller, pavel_, agent, 421, blablablabla.
I'd be glad if you could help me to find infos for subtop players, I'm thinking of players like etty, bpatela, uaLaskij, Madball, Cyber, Nitrino, rell, nek, zeun, uaReaper, ARSENY_, cnz, rehepapp, frg14, debtorr, purri, maza, plazmaistar, players really active in tdm pickups or famous in TDM (zlc, nightops, gwynplaine, haz_mat, T1E), CTF monsters, and so on...
Basically, what I need is :
First Name, Last Name, Date of birth, if you want, a picture, facebook / twitter links.
Thank you in advance, let's try to make something good to give QL some visibility as much as we can.
You can send pic link via PM if you prefer, the profile pic is quite small, 141px tall.
Edited by Infuscomus at 14:53 BST, 14 October 2013 - 4192 Hits