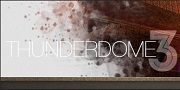 The third season of the Thunderdome tournament now takes signups. Thunderdome is a QuakeWorld duel tournament with divisions which allows players with different skill levels to compete with those of similar skill, while still crowning the king of QuakeWorld in the premier divisions. The skill levels range all the way from the complete rookie who just installed the game to seasoned players who call DM4 their second home. There are both a European and a North American section to cater for optimal conditions regarding latency as opposed to playing on European servers as an American.
The tournament follows double elimination format, which gives you a second chance in the lower bracket should the inevitable happen that the spawns are not on your side at match day. The games will be played on the classic maps DM2, DM4, DM6, Aerowalk and ZTNDM3. Matches are played in best of three maps for all divisions except for the premier division where they battle it out on best of five maps, i.e. more of the good stuff for the audience to enjoy.
Signups are open right now until the 28th of February and then the games will begin on the 4th of March.
Visit
the Thunderdome website
or
the #Thunderdome channel on Quakenet IRC
for more information
Edited by Åke Vader at 11:19 CST, 15 February 2013 - 4215 Hits