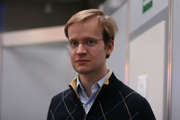 In part 2 of the
Chronicles of czm
Quake's most beloved Maths student,

Paul "
czm
" Nelson, takes us inside his head for his run at the Babbage's CPL in late 2000.
What movie-like change took place in czm's perceptions during his incredible rail-after-rail sequence to win his famous t4 match against

Aim? How did imagining TV cameras were filming him affect his winning reaction? czm also goes through his matches against

Indio_007,

proZaC and

DOOMer. What got under his skin psychologically against the QW legend DOOMer on dm6?
Part two can be watched at
SK Gaming
.
Edited by Thorin at 10:50 CDT, 17 March 2011 - 15846 Hits