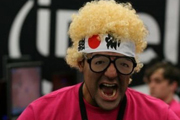 Over at SK Gaming the self-proclaimed p1mp of TDM

Cyrus "
proZaC
" Malekani talked at length about his entire career as a Quake 3 star. He won Lan Arena 7 with QPO, EuroCup V with p1mps and placed in the top 3 of the EuroCup four times in total.
Did he duel much with

Blue and

LakermaN in All*? How does the Swede compare

czm to himself at TDM? How did p1mps come to crush iCE cLIMBERS 4:0 in a best of seven series in the EuroCup V final? What was it like to play along with

Mikes and

Cooller in TDM?
Talking about

fox as a TDM player in ic:
Well they had a good dynamic, like fox can be the sneaky camper style player and toxic can be the rambo rampage go crazy guy. But I mean fox could also be crazy FFA style if he wanted to, but you know... he's fox, he's always gonna play solid no matter what :) He is truly a great player and I respect his skill and as a friend.
proZaC also breaks down his strategies for playing q3dm7, q3dm14 and ospdm5 both individually and as part of an elite team.
The interview can be read at
SK Gaming
.
Edited by xou at 05:59 CDT, 12 July 2010 - 20452 Hits