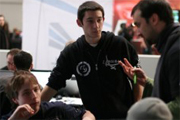 SK Gaming has released the second part of their 1on1 interview with

Shane "
rapha
" Hendrixson. The IEM IV World Champion talks about the experience of playing in front of "all those people standing and sitting".
Find out how throwing up a fourth time allowed rapha to decide to attend the IEM IV American Finals. The man with five tournament wins under his belt also talks about that period of time, after losing at the American Finals and in the Silent Gamers Cup to domestic rival

Tim "
DaHanG
" Fogarty, in which some were suggesting he was no longer the #1 Quake Live player.
rapha also references the infamous "five steps ahead" comment, referenced often on ESR, when it comes to which quality he defines in the world of Quake.
The interview can be watched at
SK Gaming
.
Part one
for those looking to catch up.
Edited by Thorin at 10:26 CDT, 26 March 2010 - 21592 Hits