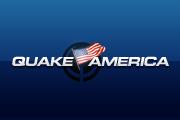 The Quake America team is proud to announce the launch of their new website
QuakeAmerica.com
. New features besides running the tournaments include access to community videos, streams, and forums. Keep in mind it is still a work in progress, but is now in a presentable state. The Quake America team would like to encourage everyone to participate in all features of the website beyond the Duel Cup Series, such as the forums.
Also, we have officially opened
sign-ups for Duel Cup #4
set to begin at 18:00 CST, 27 February 2010. Note that as we are using a new bracket builder software, some rule changes are currently pending. Especially those regarding the check-in phase, elimination system and seeding style. Final decisions on those rules will be posted later.
The Quake America team would like to thank the Quake community for all the support we've been given over the past few weeks, and hope you will enjoy our return to running the Quake America Duel Cup Series.
Links
:
Quake America
,
Rules
,
Forums
,

#quakeamerica
Edited by xou at 05:48 CST, 23 February 2010 - 18242 Hits