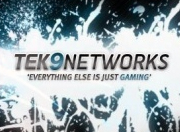 TEK-9.org
launched their new monthly QuakeLive top ten ranking today, voted by TEK9's expert panel and the world's top players every month. With no sanctioned tournaments, no spam and no fees, the TEK9 top ten simply brings you the views and votes from the people you want to hear from each and every month.
Shane "rapha" Hendrixson has been on top for some time now but can he hold off the challenge of Europe's best after a shock defeat at the IEM American Championship? The biggest names in QuakeLive share their thoughts on who's the real favourite ahead of the global finals. Next month their votes will be joined by those of the previous top ten players, giving a clear and balanced ranking each time around.
TEK9 Voting Panel:
-

Michal
"Carmac"
Blicharz
-

Rod
"Slasher"
Breslau
-

Paul
"ReDeYe"
Chaloner
-

Marcus
"djWHEAT"
Graham
-

Duncan
"Thorin"
Shields
-

Liam
"crow"
Crowley
Find out who made the top four and read up on the panel's views on
TEK-9.org
.
Edited by crow- at 06:45 CST, 12 February 2010 - 35809 Hits