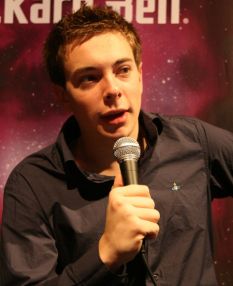 His excitable tones are synonymous with the Wolfenstein community. As a start up caster, he broadcast from the internet equivalent of a radio rack shack, he found happiness and a home at Inside The Game and went on to develop a career in gaming. Having recently successfully hosted the Sixth Crossfire Challenge – Stuart Saw talks to Crossfire.
Gaming is an unnerving and constantly evolving profession. An industry that adequately supports relatively few, yet is the ultimate meritocratic profession. Raw talent can be developed and nurtured, anyone can progress from broadcasting in their basement to entertaining a crowd of thousands in the sizzling heat of Singapore. Dedication, passion and a natural gift for entertainment are just a few of the qualities required, and ones Stuart has in abundance.
My last confrontation with Stuart Saw, aka TosspoT was an aggressive and provocative exchanged back in 2006. It probed his financial situation, his personal casting style, the morality of gaming and ego. How has Stuart changed since then? How have his pet projects developed and where does he envisage the future?
Originally posted on
Crossfire.nu
Edited by Nellie at 18:10 CDT, 25 May 2009 - 53762 Hits