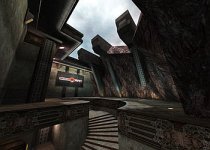 Id Software has released some
pictures
of the first new map which will be added to quakelive in the near future, in what they call their "6 new maps in 6 weeks" campaign. The other five maps will be a mixture of brandnew and classic remake maps.
The map is called
Hidden Fortress
, and was originally a part of the sega dreamcast version of quake 3. According to the blurb the conversion is a medium sized map with three main rooms - perfect for 6-10 player team deathmatch, clan arena and free for all gameplay.
//edit Badboy
The quake 3 sega dreamcast mappack for pc, played with the old patch 1.16n, allowed to connect dreamcast and pc players to played against each other. the pack contained 2 new ffa maps, "Hidden Fortress" dc_07 and dc_15 "Gaze of the Abyss". Hidden was the better one, i can remember.
q3 remake standalone versions of both maps are released along time ago.
Psion version
Hidden Fortress
:: BerneyBoy version
Gaze of the Abyss
orginal maps
old dc mappack
::
dc mappack, LvL Edition
comes with a shader fix
Edited by Badb0y at 16:51 CDT, 17 May 2009 - 15936 Hits