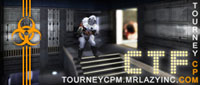 BRACKETS ARE OPEN
The European Division of the
TCPM CTF Opener '09
is ready to begin! The map list, and seeds/brackets will be finalized May 2nd. First matches can be played between May 3rd and May 9th.
This is last call for team registration, no more teams are accepted after May 1st.
The
Free-Agent CPM Player List
can help both players and captains.
The North American Division is not quite ready for their cup yet. The plan is to get it started mid way through the EU Cup to really hitch up the momentum of competition.
Speaking of momentum, two new tournaments are in works to begin shortly after the CTF Cup
TCPM 1v1 June '09
&
TCPM TDM Long Strech
(Late June). Both tournaments will be available to all continents.
Website:
TCPM
- IRC:

#tourneyCPM
,
#uscpmpickup
,
#cpmpickup
Servers and GTV:
maverickservers.com
BRACKETS ARE OPEN
Edited by TheMafia at 01:10 BST, 3 May 2009 - 9106 Hits