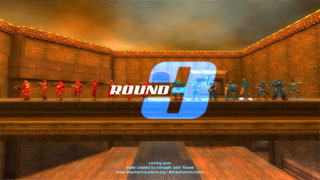 It's my birthday today \o/ so I'm giving you guys a small teaser to the project I'm currently working on.
Shaolin Productions presents Round3, the sequel to the RA3 classic of 2003 made by rocketbear. (
link
). You can expect to see quite a few breathtaking frags by rocketbear and his friends. This is a small preview of things to come.
A few of you may whine that it's all RA3 but I'll try to edit it well and keep it interesting :)
Available in 1280x720 and 800x450 resolutions. Codec required is XviD. The HD version may require a fast computer. Duration of the trailer is 1 minute and 10 seconds.
I hope you like it.
Movie File - MQ version (sp_round3_trailer_MQ.zip) 39MB
Movie File - HD version (sp_round3_trailer_HD.zip) 44MB
Edited by ashr at 15:57 CDT, 21 August 2006 - 28083 Hits