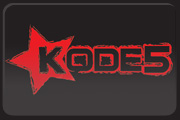 Tied:toxic to win, Odds: 75% (1.3:1)
Bets placed: E$187710, betting open: 12:02 CDT 26 Aug 2006 to 03:00 CDT 27 Aug 2006
Tied:Cooller to win, Odds: 24% (4:1)
Bets placed: E$60427, betting open: 12:02 CDT 26 Aug 2006 to 03:00 CDT 27 Aug 2006
Scheduled: 03:00 CDT, 27 August 2006 to 04:30 CDT, 27 August 2006
Schedule:
Passed

toxic vs

Cooller
Match Time: Sunday @ 03:00 CDT
Grand Final
Cooller has been disqualified from the final and the tournament. After turning up late for his game against forever, he has failed to show up for the final. The Kode5 management talked with the mousesports managers and agreed this was the only course of action available to them. K1ller will now replace cooller in the final and play Toxic. The thid place money will be split between LostCause and Stermy. (fixture refunded)
Scorebot will be running in
#kode5.live
Your hosts will be
TosspoT
and
Carmac
,
they will be providing video coverage of the match tune in
here
or
here
.
Edited by Levi240 at 04:10 CDT, 27 August 2006 - 10894 Hits